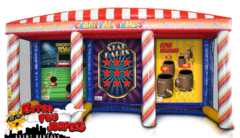 Carnival 3 Games in 1 -
Setup Area: 21'W x 9'L x 12'H


Your customers will love the 3

in 1 carnival game!! It's the perfect start to hosting your own carnival themed party with the Inflatable Carnival! This inflatable includes 3 games with vibrant artwork that will make any space feel like a carnival. This 3 in 1 also includes built in rings to display prizes.
Accessories are included:
Star Darts
Touchdown Toss
Gone Bananas
NOTE: Any accessories lost will be charge to the credit card.
Darts $15.00 each. Touchdown Toss $15.00 each Bananas $15.00 each
It's perfect for schools, churches, carnivals, company picnics and birthday parties.


Thank you for your Business
Some of Our Valued Clients